Camp Asia – Summer, Winter and Easter Camps in Hong Kong
Award-winning Camp Asia is coming to Hong Kong for the summer to ensure boredom is not an option. The Camp Asia program caters for children from four-16 years old and runs from 9 am until 12 pm each day. With 13 camp options, there is something for everyone! 
Multi-activity program
Camp Asia's program is packed with new experiences that cater to a range of interests. Campers can deep dive into art, drama, storytelling, and science, depending on which of the dozen or so available streams they enroll in – be it Creative Communications, Tech Explorers, Coding, Art and Design, and more. At Stamford's 10,000-square-foot arena, children in each stream will have loads of space to move freely and get busy. They'll also have access to Stamford's Innovation Centre, fully stocked with the latest technology.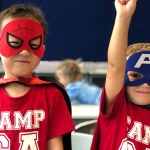 Getting into Science and Technology
Does your child love exploring new innovative technology? Eager to investigate the wonderful world of science? Then this week will bring their passions to life!  Using a variety of technology and natural resources your child will experience the wonderful world of science, coding, robotics, and more. This camp experience allows your child to get hands-on with engaging experiments to ignite their curiosity and their horizons using a design-based thinking model under our resident innovation experts' guidance.

Exploring design
Budding artists and creative minds will get to unleash their creativity in the Art and Design stream of Camp Asia. If your child has ever dreamed about designing their own masterpiece using hands-on and digital tools, then this stream may be perfect for them. They'll get to produce their own visions, starting with design basics and then exploring construction as they work to realise their creations. Each piece will then be presented to parents in a virtual showcase.
Join Camp Asia!
When: 9 am to 12 pm, 28 June – 23 July 
What: Over a dozen different camp streams, covering language, coding, creative arts, and other skills
Who: Ages 4-16
Where: Stamford American School Hong Kong, 25 Man Fuk Road, Ho Man Tin, Kowloon
How: Visit www.campasia.hk or email info@campasia.hk for more info;
Each five-day camp is priced from 3,000HKD
**includes a daily FREE shuttle bus from Yau Ma Tei or Ho Man Tin MTR